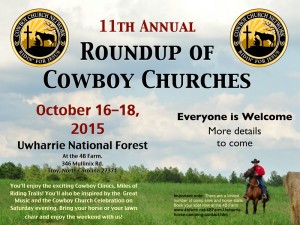 Come enjoy the Roundup this weekend!
We're going to have a great time together!
Schedule of Events
Friday – October 16, 2015
Arrival, set up camp, trail riding, fellowship
6pm Cowboy Concert
Bring your own supper
Saturday – October 17, 2015
7:30 – 9am Breakfast in the arbor
9am – 5pm Trail Riding and/or Camp-side Fellowship
9am –Noon Cowboy Pastor's Conference (in the big barn)
10am – Noon Ladies Conference (in the chapel)
Special Speaker – Patricia Swann
Noon Lunch (Sold by the plate)
1pm Fellowship at Camp & Trail Riding Time
2pm Cowboy Boot Race (for all ages)
5pm BB-Q Dinner (Sold by the plate)
6pm Cowboy Church Celebration
"For Future Generations"
7:00pm Cowboy Church Concert!
Sunday – October 18, 2015
8:00am Breakfast in the arbor
8:30am Cowboy Church with Jeff Smith & Hermon Trulove